ABOUT HOTEL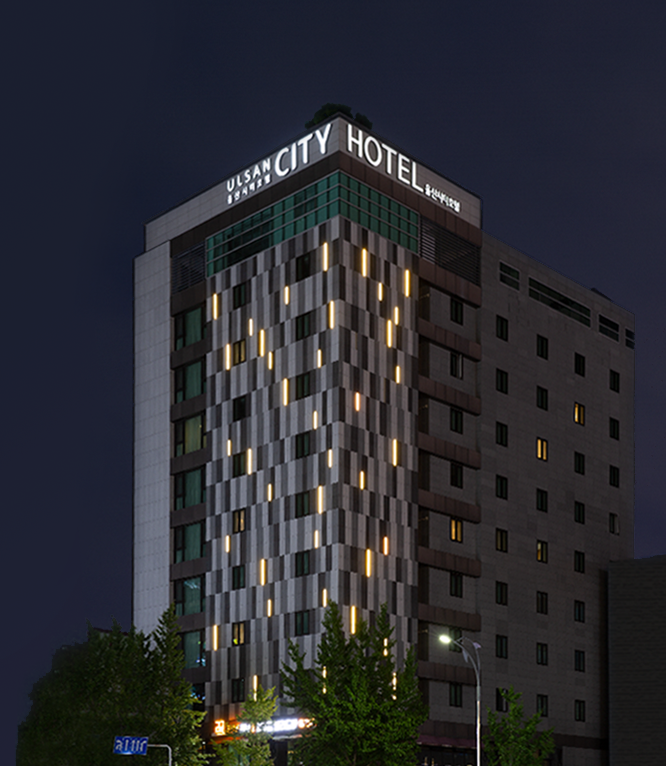 Cozy & Natural
Ulsan City hotel embodies nature's splendor paired with a comfortable environment for our esteemed guests, use many natural colors and practical designs to create modern and cozy atmosphere which assist you to recharge your energy after a hectic day.
Our hotel is located in the heart of Ulsan, a short distance from shopping, entertainment, restaurants as well as many of Ulsan's famous tourist destinations, replicates the spirit of Ulsan's bustling metropolis and natural wonders,
We have six types of hotel rooms tailored to your unique style to choose from. We have a beautiful Penthouse and Garden concept located in our suite on the 11th floor where you can enjoy a wonderful view of Ulsan's skyline and parties for a romantic evening.
Please visit our hotel to experience differentiated interior, and meet lovely staffs who are constantly endeavoring to meet our customer needs.
Thank you.
Cozy & Natural
Ulsan City Hotel is trying to provide comfort like your home. We hope it will be a perfect place not only for business trip but also for relaxation.
We desire every guest to have a personalized experience each and every time they visit and staffs are dedicated to assisting you in every way possible to ensure your satisfaction in our hotel.
Our hotel is located in the downtown of South Korea`s premier industrial city Ulsan, convenient access to shopping center, bus terminal and restaurants which are perfect for having a business lunch or dinner.
Wi-Fi internet service can be used in each of ninety rooms and business room is ample space for conducting business meeting.
Front Desk is equipped with an electronic safe-deposit box for storing your personal belongings. We have a dedicated reception area where any of your concerns or questions can be answered 24 hours in main lobby (1st floor).